FLEET RESERVE ASSOCIATION (FRA)
KINGS BAY BRANCH 248
PO Box 5485
St. Marys, GA 31558
---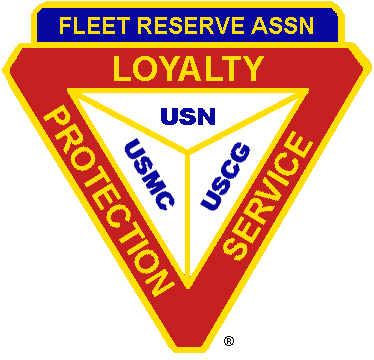 Branch Officers
President - Ronald Keller
Vice President - Bill Huebner
Secretary - Russell Borchert
Treasurer - Fred Gardner

BOARD of DIRECTORS: Dave Allen, Barry Hammond, Thomas Bowler
Branch 248 meets monthly every third Tuesday at 1830 (6:30 PM), at the Kingsland VFW Pavillion Room, 150 N Camden Woods Parkway, Kingsland, Ga.
WHO IS THE FLEET RESERVE ASSOCIATION (FRA)?
The FRA is comprised of people just like you - sea services enlisted personnel who have served or are now serving in the Navy, Marine Corps and Coast Guard (active duty, reserve, retired) and commissioned officers with at least one day of enlisted sea service. The FRA currently has over 160,000 members. The Fleet Reserve Association is a FEDERALLY CHARTERED professional non-profit organization devoted to the interests of the Enlisted and Retired members of the United States Sea Services. Annual membership dues are $20.00. Discounts are available for longer term memberships. If you are eligible for membership and haven't joined yet, we invite you to Apply Now for membership in our branch.
PREAMBLE TO THE CONSTITUTION OF THE FLEET RESERVE ASSOCIATION (FRA)
With reverence for God and Country and being ever mindful of the glorious traditions of the United States Navy, Marine Corps, and U. S. Coast Guard; our duty to uphold and defend the Constitution of the United States of America; our responsibility to aid in maintaining adequate defense for our beloved country; our desire to assist those who have served and are now serving; our devotion to our Shipmates, in good fortune or distress; our reverence for the memory of our departed Shipmates; we associate ourselves together and declare this to be the Preamble to the Constitution of the Fleet Reserve Association.
MISSION OF THE FLEET RESERVE ASSOCIATION (FRA)
The FRA's primary mission is to protect the pay, benefits and compensation of Sea Services enlisted personnel (active duty, reserve and retired) and their families through direct representation in the U.S. Congress. FRA also assists with individual career problems by maintaining a close liaison with the Department of Defense and Veteran's Affairs and other government agencies. We support a military policy that provides for an adequate national defense, guarantees the readiness of our forces, and safeguards the personnel interests of the sea services community.
WHO IS ELIGIBLE TO JOIN THE FRA?
Membership is open to all enlisted personnel (active duty, reserve and retired) of the U.S. Navy, Marine Corps, and Coast Guard. Commissioned Officers of the sea services, who have at least one day of prior enlisted service are eligible. Personnel of other branches of the U.S. Armed Forces who have prior honorable enlisted service in one of the three sea services are also eligible for membership. Annual membership dues are $20. Members may join one of FRA's 320 Branches worldwide or elect Membership-at-Large status. Remember, United we stand - divided we fall!
WHAT THE FLEET RESERVE ASSOCIATION (FRA) DOES
The FRA takes on the power brokers in Washington - Congress and the Administration. Battling for you on Capitol Hill is FRA's staff of five skilled lobbyists - all retired enlisted sea services personnel. Whenever a Congressman, brass hat, or pencil pusher lifts a finger to reduce your benefits, we're there - pounding on their desk, lobbying members of Congress, testifying in committee hearings and standing up for you.